Coral Springs Youth Soccer's girls and boys U17 teams had an impressive showing at the recent United Soccer Cup event held in Coral Springs. The girls' team took home the gold cup after a thrilling game that saw them down 0-1 initially. However, the team managed to score a crucial goal off a cross from Ella Mamane, with the finish provided by Savanna Hurlbert, which changed the momentum of the game and allowed them to put more pressure on their opponents. Eventually, the game came down to a penalty shootout, and in the fifth round, Melanie Bierman stepped up to score the winning goal, securing the victory for her team. The entire CSYS team rushed to the center of the field in a huge celebration.
Goals scored: Savana Hurlbert
PK shootout: Ella Mamane, Melanie Bierman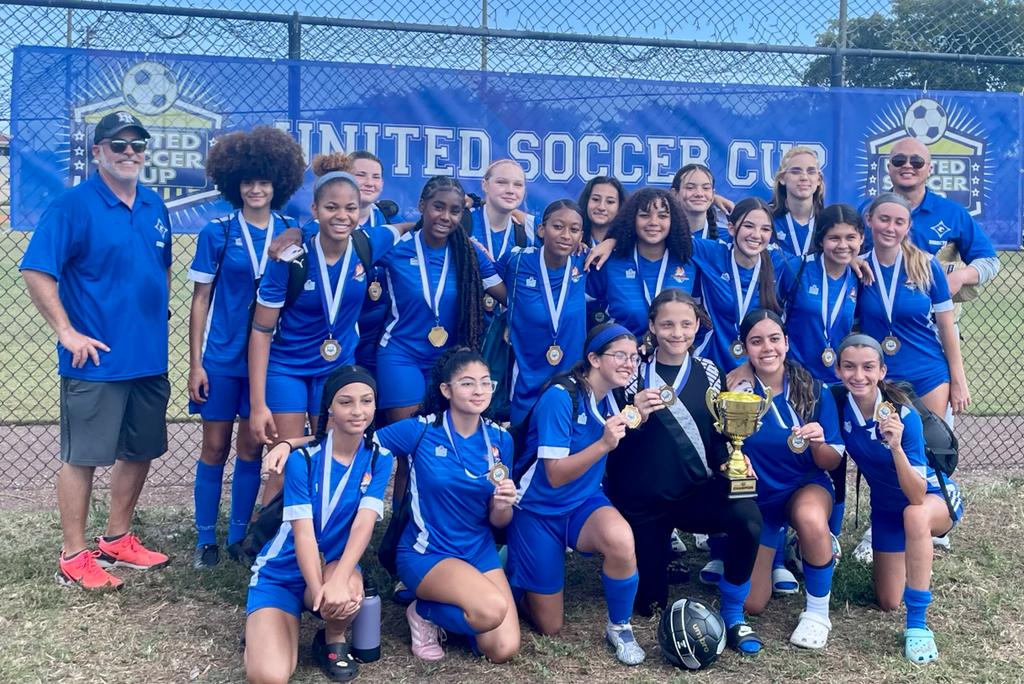 Front: Isabella Tamarez, Victoria Sosa, Savanna Hurlbert, Brianna Brown, Abigail Jacome, Melanie Bierman
Back: Christa Reese, Triniti Ferguson, Lindsay Peterson, Madison Francis, Ella Willhite, Hayden Hewitt, Leah Bishari, Lyric Woodall, Shelby Brown, Kyleigh Hearn-Ocampo, MacKenzie Nezat, Sophia Lozano, Ella Mamane
Not pictured: Zoe Myers
On the boys' side, their first game was a loss, with the team struggling to play up to their potential, particularly in the first half. However, the boys remained resilient and rallied in their second game, dominating against a travel team with a final score of 2-0. Aidan and Gian Paul scored. They went on to dominate game 3 4-1 with goals from Aidan, two from Nathan and one from Lucas. Despite three key players, Pablo Pelaez, Asher Ferrell, and Carlos Bracho, being injured and unable to continue in the tournament, the team's deep bench allowed them to continue their success ending up in third place among the six teams.

Front from left to right: Roberto Vieira, Carlos Bracho, Ricardo Acosta, Aidan Rangel, Eric Valentin, Bryce Collins, Pablo Palaez, Diego Valentin, Brayan Montede, Nathan Nutter, Lucas Yahney, Santiago Ospina
Back from left to right: Mario Arteta, Yovani Arteta, Christian Wallace, Nicholas Melendez, Eduardo Villarraga, Mathew Morrison, Ethan Josaphat, Kenneth Barrios, Cole Searing, Asher Ferrell, Ruben Lopez, Aaquil Lewis, Cristian Patino, Ryan Teixeira
Not pictured: Gian Paul Quispe, Cristiano Zavaleta, Nicholas Lemus, Kavin Yadav, Massimo Rizzuto, Samuel Leon, Jason Leon, Liam Devonport, Ackash Basant(coach).
It's remarkable to note that CSYS built both teams just four weeks before the event, and they were able to compete against both travel and recreational teams. This is a testament to the hard work and dedication of the volunteer coaches from the Coral Springs Youth Soccer community, who worked tirelessly to prepare the teams for this competition.
This success is a reflection of the strength and commitment of the Coral Springs Youth Soccer program as a whole. It's inspiring to see young athletes succeed and develop their skills in team sports, and the inclusivity of the event demonstrates the potential for athletes of all levels to compete at the highest level.
Overall, the success of the girls' and boys' U17 teams at the United Soccer Cup is a reason for celebration and a source of inspiration for future teams in the program. Congratulations to all those involved, and a special shoutout to the girls' team for their thrilling gold cup victory and the celebration that followed!